Little Venice, one of the most famous locations in Mykonos, can offer amazing bars for a relaxing night out. Let's check the TOP bars in Little Venice!
A complete, enjoyable, and relaxing holiday is what every traveler seeks, so Mykonos is at the very top of everyone's list of suggested destinations. The captivating beaches, stunning scenery, kind local hospitality, delectable cuisine, fun-loving atmosphere, and exciting activities that Mykonos has to offer are all definitely worth experiencing.
LITTLE VENICE
Firstly, let's describe this paradise called Little Venice! A very well-known area of Mykonos, recognized for its romantic characteristics that mirror Italy, Venice, with all the buildings placed on the edge, nearly floating over the sea, creating a wonderful view from the porches, or balconies staring at the beauty of endless blue of the Aegean Sea. Little Venice, also, bears the classic architectural trademark of Greece, with white and blue drawing everyone's attention or other bright accents giving the feeling of the Greek identity. It is a location that offers a once-in-a-lifetime opportunity to encounter Myconian architecture that mixes the romance of Italian Venice with the simplicity of Myconian elements.
KATERINA'S BAR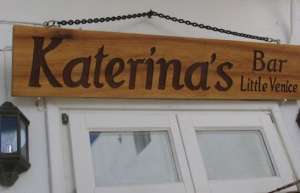 As a historically significant location with a captivating tale, Katerina's occupies a special place in the hearts and memories of both residents and visitors to Little Venice. The first woman to hold the position of a professional captain sailing in the Aegean in Greece was Katerina Xidaki, the bar's original owner. Later, Katerina Xidaki made the decision to build a restaurant and bar inside her family home.
A Mediterranean culinary trip takes place at Katerina's restaurant, which is located on the ground floor of the building. Here, guests may test their taste buds and eat classic Greek dishes made by the restaurant's highly trained and skilled chefs. Every dish is prepared with locally grown, fresh ingredients that have been expertly cooked and artistically blended to create the renowned Katerina's recipes that have earned the restaurant recognition from some reputable travel websites. The beautiful bar is situated on the second level of Katerina's former family home. It offers a wide selection of traditional cocktails, drinks, and beverages to suit every guest's preference, as well as some more inventive options for refreshing cocktails for those who want to try new flavors. In addition to offering a stunning view of the famous windmills and the Aegean sea waves of Little Venice, Katerina's bar is the ideal location for a relaxing drink.
GALLERAKI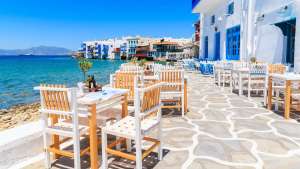 The Galleraki Cocktail Bar's small tables, some of which have chairs on the edge of a stone terrace where the waves and smell of the sea feel extremely close. With the sun dives into the Aegean Sea creating a stunning sunset, Galleraki transforms into the ideal location for a peaceful cocktail or drink as the day wears on.
In addition to being a fantastic bar for all types of guests, Galleraki also has a lovely history behind its founding. It is a two-story bar, and Giannis Galatis, a member of an ancient Greek aristocratic family, used to run the upper level as an art gallery. Greek meaning "little gallery," Galleraki proved to be the ideal name for the bar when it relocated to the considerably smaller bottom floor!
Galleraki's success isn't just due to its convenient location; it also has a broad and creative cuisine that lives up to the restaurant's renowned name. Galleraki is a great place to go for a calming drink or cocktail that will liven up the conversation among friends or set the tone for a romantic night.
More particularly, the menu features a selection of juices and drinks that are prepared with attention in every detail by professional and highly skilled mixologists-bartenders using fresh and locally grown fruits. Every visitor can choose a blend of rum, gin, and vodka that will appease and captivate their taste buds. In addition to the standard drinks served, Galleraki offers guests the chance to try the inventive and well-known signature cocktail "katerinaki" or to push their own creativity by asking the bartenders to create some custom special drinks based on their preferences. The ideal accompaniment to the delicious, refreshing flavor of cocktails at a gorgeous bar like Galleraki must be good music!   Every vacation seeks to create the ideal chill-out attitude, and Galleraki has put together pleasant compilations of sounds produced by Greek creators and DJs that will do just that! They'll make guests swing peacefully along with the beat while enjoying their drink!
CAPRICE BAR
Newsweek has recognized Caprice bar as one of the Top Ten Bars in the World! It is a bar that is quite reminiscent of the Greek summertime, with characteristic white and blue accents and floral arrangements providing a cheerful and comfortable ambiance. The menu at the bar offers a wide variety of inventive cocktails and traditional beverages to please every drinker. Try the famous Caprice cocktail, which combines vodka and dark rum to produce a stunning turquoise hue. Or the bar's legendary watermelon shots, which will brighten your evening. Your experience of Myconian nightlife can include this drinking and entertainment haven, which plays upbeat music till the early hours of the morning.
Just a few steps away, there is a restaurant that along with Caprice Bar, under the same ownership, wants to complete that authentic Greek experience. The restaurant Sea Satin Market maintains the ideal harmony between heritage, simplicity, and contemporary luxury! The seafood and fish dishes at this restaurant are particularly well-known for being expertly prepared by chefs using the freshest products available in the neighborhood markets. Guests who choose to eat vegetarian meals there can, of course, do so. This culinary adventure can culminate with the well-known Greek dessert "loukoumades with vanilla ice cream," which is deliciously sweet and delightful.